We help out. Many companies – mostly larger ones – like to do charitable work. It's often little more than an effort to garner favorable PR and spend some tax-deductable dollars, but it's help nonetheless.
We like to pitch in too, but for a much different reason – because we can, and because it's just a nice thing to do. In fact, Kanabec Systems has been involved in numerous volunteer efforts since day one. And several of these efforts are still going on today.
From food shelves to public media outlets, there are lots of organizations out there trying to do the Right Thing on a shoestring budget. We'd like to help each and every one of them, but our accountants won't let us. So we've chosen and completed several "pet projects" each year – all without earning our usual wages, or writing off our time or supplies afterwards. It's just the way we like to do things.
Each year Kanabec Systems donates hundreds of hours of labor and consulting time. Read on to see what we've done with those hours recently.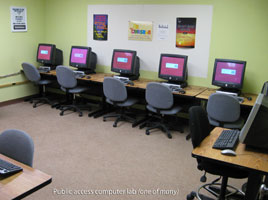 Kidsnet - The Kidsnet effort was one we began in 2005, aimed at creating a specification not only for public-access computer labs, but also for the infrastructure that supports them, the centers that house them (making for tight integration and a consistent "multimedia experience" throughout), and their interactions with other such labs.
Since its inception, the Kidsnet spec has gone through three major revisions, and has been implemented at five centers throughout central Minnesota. Two of those centers – the flagship Warehouse214, and the more-basic Stacy Teen Center – have occupied most of our Kidsnet-related time, and have been built and maintained almost exclusively on donated time and equipment. Hundreds, perhaps even thousands, of kids (many coming from low-income situations) have experienced the Internet and other feats of technology through Kidsnet-based products and services. We're proud to have been there, and to have helped make it possible.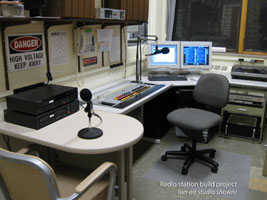 Lakes Media Foundation - Seven years of hard work has finally paid off. As of February 2014, the Lakes Media Foundation is officially licensed by the FCC to broadcast on the airwaves of East Central Minnesota.
As their consulting engineer, we've been able to handle all the technical details for the soon-to-be KCIZ-FM (103.5) – from the initial studies and applications, all the way through to construction. And as one of their founding supporters, we're actively working to turn their plans into reality.
Once completed, this station will be a living example of our broadcast products in action – with transmission facilities carefully engineered to operate at peak performance and quality; being fed by studios and equipment that are thrifty yet reliable, easy for their airstaff to operate, and capable of generating uncompromising output that all involved can be proud of.