Make some noise at your next event. If you're hosting an event – be it a conference, party, banquet, or whatever – odds are you'll need some equipment to make yourself seen and heard. And we've got the projectors, speakers, amplifiers, two-way radios, and other gear that you need to make your event a success.
We're always happy to lend our expertise to special events. If you're planning an event and need help with the technological details, give us a call – odds are we can help.
Those who are knowledgeable and skilled in operating this equipment are welcome to rent it on a "pick-up/drop-off" basis. All others are strongly encouraged to opt for "full-service" – wherein we deliver, set up, and (if needed) operate the equipment for you. Additional costs may apply to "full-service" rentals.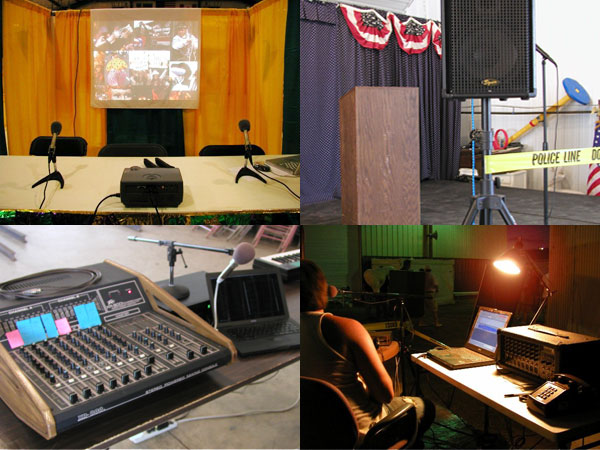 Sound. Rise up above the the racket – or make your own! Whether you want to raise the roof or just add a little amplification, we've got you covered.
First, choose your speakers:
Our Peavey PR-15 speakers deliver clear highs and thundering bass, and yet are extremely light and portable. They work well in outdoor situations, as well as in medium to large rooms, and other gathering areas. Stands are included.
For smaller needs, our Squier 4-12 speakers are a smart choice. They can easily fill small to mid-sized rooms with sound, and work equally well for smaller outdoor gatherings. Stands are included.
Next, choose your amplifier and mixer:
If you want a rugged, no-nonsense unit that combines everything in one box, you need our Kustom KPM8160 mixer-amp. It offers 8 input channels, with a built-in equalizer and electronic reverb.
For all-in-one convenience with a traditional "console-like" control surface, look no further than our Peavey XR-800 mixer-amp. It has 8 input channels, each of which has its own EQ and inserts.
Need more than 8 channels? Then add an additional mixer! Choices range from our Shure 4-channel unit, all the way up to our massive Ramsa 16-channelconsole.
Then there's microphones:
Our favorite model for all-around use, the Electro-Voice 635a is a extremely durable mic that's appropriate for a wide variety of applications. Whether you use it hand-held or in a stand; for speaking, vocals, or instruments; indoors or out – you'll see why the 635a's are our "favorite little 30-year-old mics." (4 units available)
For vocals or speaking in indoor situations, our Sony F-BM7 mics are tough to beat. They put out broadcast-quality sound, and yet remain simple and versatile.(6 units available)
In the lavalier department, we have two offerings: the classic Electro-Voice 647a(designed to be worn around the neck) and the more modern Shure SM11(designed to be worn in the lapel or on a tie). Both provide excellent sound quality and are very directional, making them ideal for presenters working in close proximity to the system's speakers. (1 of each unit available; more coming soon)
And don't forget the accessories:
A variety of mic stands are available – from short desktop stands to free-standing booms.
Need a podium? Ours is an attractive, oak-trimmed unit, cream in color, with three shelves below and wheels for ease of moving.
We also have a variety of extension cords, power strips, and other accessories you might need to get things going.
Video. Show off your presentation, give a demonstration, or run your own private movie theater – the possibilities are endless.
Choose from our selection of projectors:
For smaller needs, our 3M 9312 video projector is the ideal choice. It accepts component (RCA) or composite (S-Video) input, and kicks out 700 lumens – enough for most screens 8′ or less in height with the room lighting dimmed.
If 700 lumens just won't cut it, go for the Big One – the EIKI Powerhouse One. At a whopping 2,100 lumens(!), it can blast video onto screens of nearly any size. It may actually be too bright for screens less than 8-10′ in height, so be sure you're prepared! Pretty much any input you can imagine is supported – VGA, DVI, RCA, S-Video, RGB, etc. etc. etc.
Then grab a screen:
In the 6′ size, we offer your choice of white or silver screens. Both are roll-ups, and both have built-in stands.
Upon special request, we can also provide a 12′ white roll-up screen. You must provide your own stand, or mount it on a wall (ask for details).
Voice & Data. We can also provide voice and data communications equipment and services for your event.
If you need two-way radios:
We have a selection of professional-grade walkie-talkies for VHF or UHF use. In particular, we have a pool of 12 Kenwood handhelds that can be configured for your event's needs.
For in-vehicle use, we offer several models of Motorola mobile radios in VHF and UHF. These can also be custom-configured to meet your needs.
If your event will take place over a wide area (more than a few miles), ask about our portable repeater. It allows your walkie-talkies and mobile radios to communicate with one another over much greater distances than when operating unit-to-unit.
If you need telephone service:
Need cellular phones for the duration of your event? We can make it happen – whether you need two or twenty. We can provide traditional handsets or smartphones, with affordable per-minute or per-line rates (your choice), all running on "America's Largest and Most Reliable Network."
For delivering non-cellular service to temporary locations, we can use our Voice over IP equipment in conjunction with the wireless data products below. This allows you to extend your existing telephone service to the event location.
If you need temporary wireline phone service, we can coordinate with local providers to create a solution at your event site. We can also provide a PBX or key system for your event, if you require one.
If you need wireless data or wireless Internet:
We can set up point-to-point microwave links to your specification, for connecting multiple work areas to one another or to a central location.
We can also provide WiFi equipment for covering your event area, either for public or private use (or both!).
Other things: If you need something that isn't listed here, please contact us - we may still be able to help you out.